NAACP considers role alongside Black Lives Matter at annual convention
Minneapolis NAACP president Nekima Levy-Pound addresses protesters following the shooting death by police of Philando Castile. Photograph: Richard Tsong-Taatarii/AP
In its 107-year history, few National Association for the Advancement of Colored People (NAACP) conventions have arrived at as charged a moment as this.
So as 5,000 NAACP members, volunteers and leaders descend on Cincinnati, Ohio, one natural question that presents itself is: where does the venerable association sit in relation to the relatively nascent Black Lives Matter movement that has captured the nation's attention with its loud, urgent protests against police violence?
On paper, it does not seem much of a question at all. Founded in 1909 by the black sociologist, author and activist WEB DuBois, along with several liberal white activists, the NAACP has had a hand in all of the nation's major race issues since then. It was instrumental in the fight against lynching in the first half of the 20th century, and the battles against Jim Crow segregation that defined the 1950s and 60s.
"In the last century it had to do with lynching, ropes and sheets," NAACP president Cornell Brooks told the Guardian. "This century we're grappling with a form of racialized violence called police misconduct having everything to do with badges and uniforms."
This comparison is one Black Lives Matter activists commonly cite, and the BLM rallying cry has even been incorporated into the NAACP's convention theme for 2016: "Our Lives Matter, Our Votes Count."
But this apparent congruence obscures fault lines which run through the relationship between BLM and the NAACP.
In the minds of many activists, the NAACP is decidedly old-school both in its approach and its values. To many in the social-media driven BLM movement the NAACP's institutional credibility is its weakness, suggesting it is too married to the existing political system. The respect the association commands in corporate and political circles is to many activists a fatal kowtow to the politics of "respectability" which stifles the dynamic range of blackness that exists.
While the NAACP rarely directs critiques at younger activists, the points of divergence are clear.
"We don't hyperventilate in the streets," Brooks said. "We have a clear, cogent message that we often lift up bodily with our presence in our streets, but we lift up that same message strategically and thoughtfully in state and federal legislatures."
Brooks continued: "What we say to this woke generation is that you gotta be conscious and aware of not just the power of shutting things down, but also opening things up."
Citing voter suppression legislation introduced throughout the country, designed to make voting more difficult, he added: "And we say to millennials that your power is so important, that there is a well orchestrated plan to make sure you don't vote."
Often, NAACP members and leaders frame their efforts as the real world actuation of BLM's justifiable outrage. Carlton Mayers, policy counsel for the NAACP's Legal Defense Foundation's Policing Reform Campaign, said activists making noise is critical to keep national attention on issues of racial injustice.
"You also need to have the people who are in the backdrop litigating these cases before the courts," Mayers said. "They are the ones who are going to work to enact the policies that are needed to keep law enforcement accountable."
He pointed to the LDF's sustained work in New York City, Baltimore, Charleston and Ferguson, all locations of high-profile police killings, as examples.
As Brooks put it: "We're there before the cameras arrive and we're there long after they leave."
One of the major differences between the Black Lives Matter movement and the NAACP is generational. The NAACP skews much older. But with 30,000 youth and college members on its rolls, its younger members have an increasingly strong voice. If they have a say, the melding of BLM and NAACP may come before long.
"We keep the association honest and we keep them true to its mission and values," said Stephen Green, national director of the NAACP Youth and College Division. Green is no stranger to BLM style direct action and believes wholeheartedly in its efficacy, but also in the NAACP's ballot-oriented strategy.
"We need to be engaged in the streets, we need to continue to resist. We need to continue to block bridges and disrupt highways," Green said. "But also focus our agenda on the polls. Registering voters and disrupting the status quo is what i think our mission should be until [election day]."
Green said that when he was in college, he became so frustrated with the NAACP that he nearly left with a mind to start a new organization. A former chairman convinced him otherwise.
"We have an association and it's a democracy – just take over it, run it," then chairman Julian Bond said to Green, an argument he found convincing.
"There is something to be said for those five letters that have been a framework and a groundwork," he said.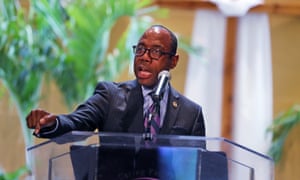 "Black Lives Matter" also serves as a general slogan and rallying cry for people of all affiliations sympathetic to the cause of reducing racialized police violence, further complicating the question of leadership and structure. In the NAACP, the delegates and the leaders they elect, decide the mission and the tone.
Green says there is a push from younger members to direct the association towards the ground BLM has staked. But he doesn't see the two worlds as so far apart either.
"There's no difference between the BLM movement and the NAACP," he said. "They may have a different vehicle but we're all going in the same direction and I think that's the key, that we're all here fighting for democracy."
The Cincinnati NAACP convention kicked off the same week that the Republican national convention began it's coronation of Donald Trump across the state in Cleveland. Trump, whose campaign has been widely decried as racist, refused an invitation to speak to the nation's oldest civil rights organization, just the third time a Republican nominee has spurned the group in the last nine presidential elections. Bob Dole in 1996 and George W Bush in 2004 also did not speak.
The Democratic presumptive nominee, Hillary Clinton, was scheduled to address the convention on Monday. Her remarks were expected to touch on police violence, the Baton Rouge shooting that left thee officers dead on Sunday, and voter registration.
Source: theguardian.com