Black Lives Matter protesters close London City Airport runway
All flights at London City Airport have been disrupted after protesters gained access to the runway.
The Met Police said it was called to the site at about 05:40 BST after nine protestors "locked themselves together" on the runway.
The Black Lives Matter UK movement has confirmed it is responsible for the protest.
The airport said inbound flights were being diverted and it hoped to "resume operations as soon as possible".
Black Lives Matter UK said: "Whilst at London City Airport a small elite is able to fly, in 2016 alone 3,176 migrants are known to have died or gone missing in the Mediterranean.
"Black people are the first to die, not the first to fly, in this racist climate crisis.
"We note, however, that the UK is willing to charter special flights to remove black people from the country based on their immigration status."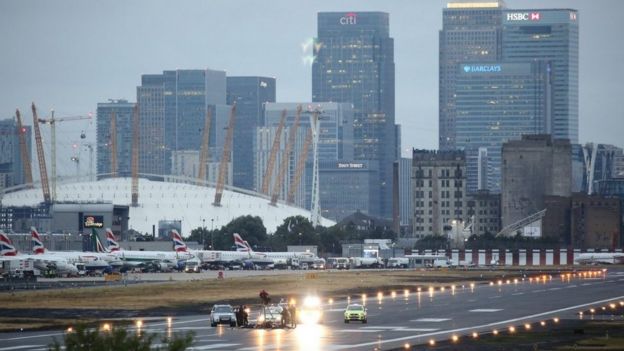 Black Lives Matter added: "This action was taken in order to highlight the UK's environmental impact on the lives of black people locally and globally.
"As the largest per capita contributor to global temperature change, and yet among the least vulnerable to its deadly effects, the UK leads in ensuring that our climate crisis is a racist crisis."
Scotland Yard said its officers were "negotiating" with the group and awaiting the arrival of specialist resources to "unlock the protestors".
It added no arrests have been made at this stage.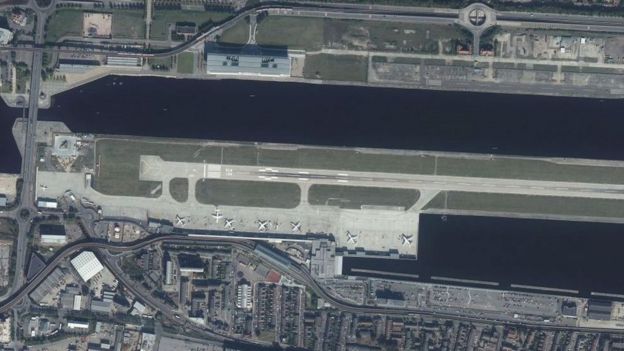 A London City Airport spokesperson added: "The runway is currently closed due to protesters on site.
"We apologise to passengers for any inconvenience to their journey."
City Airport is popular with bankers and business professionals due to its proximity to Canary Wharf in London Docklands.
Last year, a record 4.3 million passengers used the airport.
Source: BBC