Killer Mike Has Some Advice For White Liberals Afraid Of Donald Trump
"Go find other people and become a part of movements that you don't lead."
WASHINGTON ― The crowd packed into Echostage nightclub on the eve of President Donald Trump's inauguration was raucous when Michael Render, better known as Killer Mike ― half of the hip-hop duo Run The Jewels ― walked to center stage.
Render had worked for Bernie Sanders' presidential campaign last year. He told the audience the Vermont senator's words resonated to him in a way similar to those of Martin Luther King Jr. That meant a lot to a black man from Atlanta who had distanced himself from the kind of blind faith some people seem to have in their politicians.
"I just want to tell everyone who worked that campaign, or who works any campaign, that, at the end of the day, no politician is your ruler, or your master, or your lord," Render said to loud applause. "These people work for us. We do not work for them.
"No matter who won, the day after tomorrow, this is our motherfucking country," he continued. "Who gives a fuck who is president? And what we will build or keep this republic going on is truth, honesty, integrity, love and democracy."
Then Render began chanting the hook of the next song in the lineup: "Lie, Cheat, Steal," a banger highlighting schemes politicians have used to exercise and maintain power.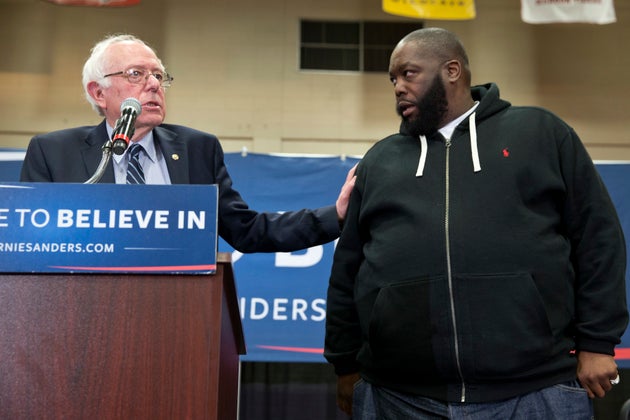 Backstage, in a conversation with The Huffington Post, Render was more reserved in his language, yet far more animated. Between bouts of laughter, jokes about smoking weed, and serious concerns that he popped up in John Podesta's hacked emails, Render had advice for D.C. residents worried about the city's liberal nature changing under the Trump administration.
"Instead of worrying, just understand you're going to be living in a Southern state for the next four years," said Render, who speaks extensively about Southern politics in an upcoming HuffPost podcast about Reconstruction. "Your cousins who live in Mississippi, Alabama, Arkansas, Tennessee or Florida ― you might wanna call 'em."
A Trump presidency could embolden racists in Washington and elsewhere, and retrograde legislation may revoke progressive policies (such as providing abortions to poor women and gun control).
But one positive thing about Trump's election, Render said, is that it can galvanize disparate groups of people and dispel the widespread feeling of hopelessness that followed Trump's victory.
"The only hopeless people I'm hearing from are people who are not politically involved anyway," he said. "People who are politically involved are energized because they're ready to fight the good fight."
Trump's election has stirred masses of people who may not have been involved in politics beforehand. Protesters took to the streets in at least 25 cities after the election. The Women's March on Saturday in dozens of cities saw a turnout of more than 3.6 million.
A major criticism of the demonstrations is that white liberals are mobilizing in masse now because they have something to be afraid of. People of color have organized for decades.
Render's advice to white liberals fearful of Trump's rhetoric and policies was simple: Talk to black people and other members of historically marginalized groups.
"Go outside of your white liberal, Anglo-Saxon, Protestant circle," he said. "Go find other people and become a part of movements that you don't lead. Go become a part of movements in which you have to learn from the people who have endured this ― since Reagan, since Nixon ― and you will start to see what they have had to do to thrive and survive. And you guys will learn and you guys will devise strategies together."
He encouraged black people to be patient with white allies. "It is up to us to express that ― and if you gotta write them off, if they just don't get it, fuck 'em. Find another white friend to teach. But we cannot throw everyone out."
Source: huffingtonpost