Jesse Williams Calls Racist 'Cotton' Promposal 'Destructive Dumbf**kery'
The white teens' fathers said their prom invite for their black friend was an inside joke.
Jesse Williams is calling out the teens involved in a racist prom proposal that has gone viral.
A photo was posted of two white teens from Monarch High School in Coconut Creek, Florida, standing beside a black teen as they hold a cardboard sign that reads, "You may be picking cotton but we're picking you to go to prom with us."
One of the white teens posted the photo to Instagram with the caption "she said yes." After a screenshot of her post was shared by Monarch High alum Jon Aro on Twitter on Wednesday, the teens received widespread backlash.
Williams posted a photo of the teens on Instagram on Saturday with a damning caption.
"Trash and tragedy the likes of this requires a great many failures, lies and omissions, working in concert, publicly and privately, to achieve this level of destructive dumbf**kery. #GETOUT #StayWoke #TheSunkenPlace #AintNuthinChangedButTheDate," the actor wrote.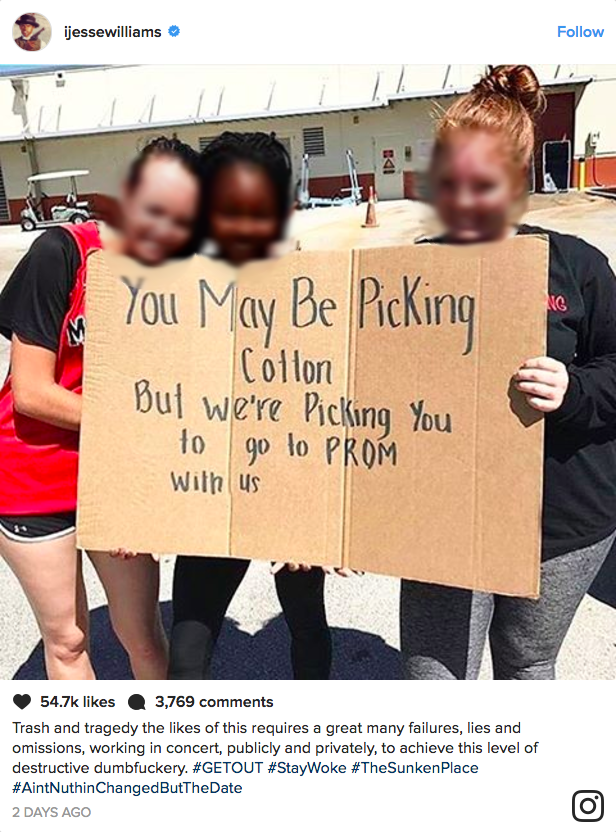 The father of one of the white students defended them to Local 10 News, calling it an inside joke. He said the black teen, who is homeschooled and initially wasn't going to prom, has a grandmother who owns a cotton farm in Alabama.
The father of the other white student apologized on behalf of both teens.
"They really want to apologize for their extremely poor choice of words in this situation," he told the local outlet. "They would like to take it back. They would like to find a different way to express this invitation to prom."
Now, the students are reportedly afraid to attend the dance.
The two white teens have been suspended for a week while the school district investigates, according to CBS Miami.
Source: huffingtonpost