New Hampshire Police Refuse to Release Information on Case of 8-Year-Old Biracial Boy Who Was Nearly Lynched
Welcome to Donald Trump's America. Say what you want, but when the U.S. president defends avowed white supremacists, one can't be surprised when bullying takes on a decidedly racist tone as it did with an 8-year-old biracial boy who was hung from a tree in the year 2017. The climate has been set.
Yes, there are nooses hanging all over America, and some little cretins decided to use one, unfortunately.
NH1.com reports that a Claremont, N.H., boy had to be flown to Dartmouth-Hitchcock Medical Center after one or more teens decided to hang him from a tree with a rope.
The boy's mother, Cassandra Merlin, posted the horrific photo of her baby's neck to Facebook, and even then gave those responsible the benefit of the doubt saying she didn't care if it was "a so-called accident."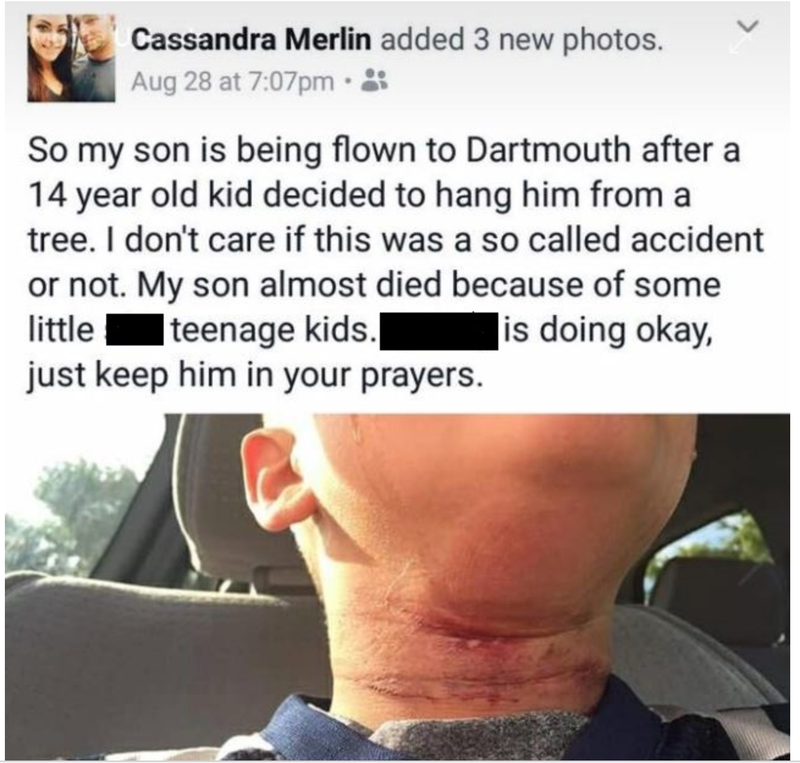 The entire caption reads: "So my son is being flown to Dartmouth after a 14 year old kid decided to hang him from a tree. I don't care if this was a so called accident or not. My son almost died because of some little sh** teenage kids." (sic)
The town of Claremeont, N.H., has 13,000 residents, and is 96 percent white, 0.6 percent African-American, and 1.8 percent biracial, according to the 2010 Census.
The boy's uncle, Lyrik Martin, who also posted photos of his injuries on social media, wrote in a post that he wasn't sure the attack was racially motivated, but the boy's grandmother went on record saying the teens first taunted the young man for being black.
Lorrie Slattery told the Valley News that the incident was in fact racially motivated and "intentional."
Slattery, who said she was able to recount what happened from her grandson's 11-year-old sister and other children present (there were no adults), said that her grandson and some teens were playing in a yard on Aug. 28 when the teens started calling the little boy "racial epithets" and throwing sticks and rocks at his legs.
Some or all of the teens allegedly stepped up on a picnic table and grabbed a nearby rope that had been part of a tire swing, Slattery said.
"The (teenagers) said, 'Look at this,' supposedly putting the rope around their necks," Slattery said. "One boy said to (her grandson), 'Let's do this,' and then pushed him off the picnic table and hung him."
The boy swung back and forth by his neck three times before he was able to remove the rope from his neck; Slattery said none of the teens came to his aid.
As late as Friday, Claremont Police Chief Mark Chase would not comment on the specifics of the case, only saying that they were still investigating and that those involved are juveniles, prohibiting him specifically speaking about the incident.
Chase also said that the kids being investigated (who knows if they're charged) should be "protected."
"Mistakes they make as a young child should not have to follow them for the rest of their life," Chase said.*
*Notice how he called the teens "young children," infantilizing the white teens. Conversely, teens like Trayvon Martin are made to be hulking, menacing adults.
Chief Chase seems to be centering the perpetrators feelings and forgetting about the trauma of a child who had his so-called friends hang him from a tree to the point where you have to be medevaced to a hospital.
Activists, who only got wind of the case only through the boy's mother's social media post, are demanding more information, reports Valley News.
"I am upset and saddened and angered about how the police and city officials have chosen to play this," said Kendra Colburn, of the Upper Valley chapter of Showing Up for Racial Justice. "(They) all seem like they do not want media attention on this story, and I am concerned about that. I am really concerned that we can't change what we don't know about or refuse to look at."
Chief Chase confirmed that no other information would be released about the case, including if it was racially motivated.
America 2017.
source: the root