Bronx building tenant who lost four relatives in deadly blaze says mom of fire-starting tot didn't warn neighbors
The mother of a 3-year-old blamed for a Bronx fire that killed 12 people failed to alert fellow residents as she fled the burning building, her next-door neighbor charged Saturday.

"She did not yell," recalled an angry Shevon Stewart, 44, who lost four family members in the Thursday night blaze. "You (are) the one, and you don't call for help?

"Call somebody! If you don't have a phone, knock on a door. Do something!"
Stewart — who lived in the first-floor apartment next door — said the woman walked across the street and sat on the curb as the flames tore through the five-story Belmont apartment building.
The still-unidentified mother managed to get her 3-year-old son and a second 2-year-old child to safety. Fire officials said the unattended boy ignited the killer blaze while fiddling with the gas stove.
"I am so angry," said Stewart. "I don't have the words. I don't know what to say."
Among the dead were Stewart's sister Karen Stewart-Francis, 37; and daughters Kelesha, 7, and Kylie, 2. A cousin, 19-year-old Shawntay Young, was also killed after coming from her basement apartment to visit the Stewart family in their fifth-floor home.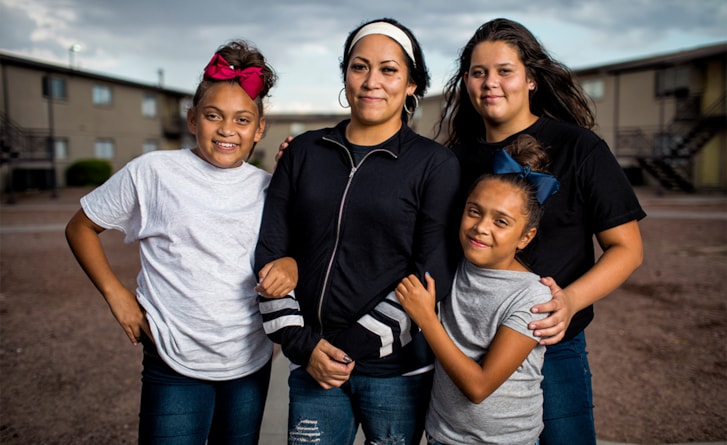 PAID CONTENT BY SALVATION ARMY
See how Americans living in poverty fight to make ends meet.
At least 12 dead in 'historic' Bronx building fire
Family patriarch Holt Francis emerged alive from the deadly mix of smoke and flames, but his prognosis on Saturday was dire.
"He's not going to make it," said Stewart. "I want to cry really bad, but I don't know — it's like it's not coming. Now what do I do? What do I do?"
According to Stewart, doctors need a member of Holt Francis' immediate family to make a decision on disconnecting him from life support.
"He was married to my sister, so she could do it," Stewart said of taking Holt off the machines now keeping him alive. "But my sister is no more."
Holt remained in Jacobi Medical Center as relatives launched a GoFundMe page to bury the dead in their native Jamaica.
Stewart recounted the chaos after she opened the door of her apartment to see the fast-moving flames.
She first tried to call upstairs to her sister's fifth-floor apartment, and rushed back into the burning building to kick on Young's apartment door.
As for the neighbor, "I hear her dragging her feet," Stewart recalled.
"I can't see her but I hear her: 'Fire,' " Stewart said softly, imitating the woman's half-hearted effort.
source: nydaily