Twitter storm planned to seek justice for slain Saudi child
A hashtag has debuted on Twitter, seeking justice for Zakariya Bader al-Jabir, a six-year-old Saudi child who was brutally beheaded in front of his mother while on pilgrimage to the holy city of Medina in the kingdom.
#JusticeForZakariya was created on Tuesday, calling for a twitter storm to start as early as Wednesday. An army of activists, human rights campaigners, and journalists have already reacted strongly to the heart-wrenching murder.View image on Twitter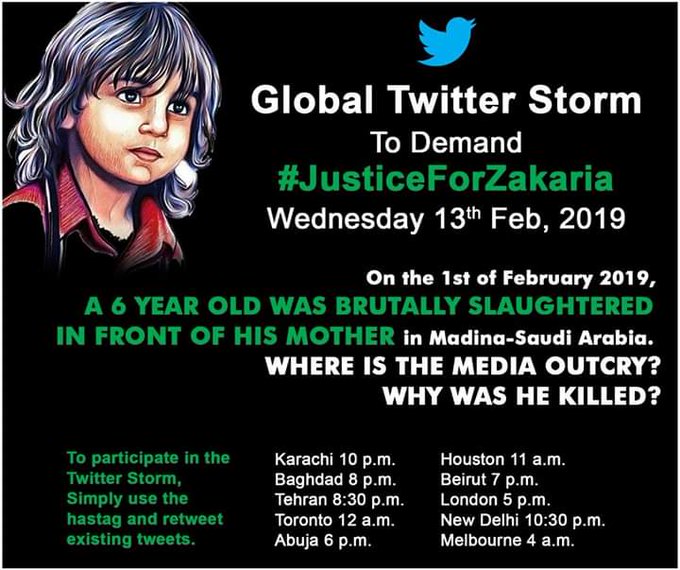 "Oppression survive through silence."

Join global #TwitterStorm to demand #JusticeForZakaria.

Wednesday 13th Feb, 2019.1391:51 PM – Feb 12, 2019139 people are talking about thisTwitter Ads info and privacy
Witnesses say the assailant, who has been described in some reports as a taxi driver belonging to Saudi Arabia's dominant Wahhabi sect, repeatedly stabbed Zakariya in the neck with a piece of broken glass until he was beheaded.
PressTV-'Saudi kid brutally killed in Medina before mother's eyes'A Saudi kid has been reportedly murdered in Medina in front of his mother's eyes for unknown reasons.
The attack reportedly took place while the mother and son were on their way to visit the shrine of Prophet Muhammad (Peace be upon Him) in Medina.
Wahhabism is a Takfiri ideology dominating Saudi Arabia and freely preached by the kingdom's clerics.
The world's notorious Takfiri terror outfits such as Daesh and a-Qaeda are widely believed to have been inspired by the radical ideology.
source: PT